Taishoya's baths offer Ureshino Onsen water, one of the three major waters of beautiful skin in Japan

Ureshino Onsen is a hot spring renowned as one of Japan's three major waters of beautiful skin.
The spring quality of colorless and transparent water produced at high temperatures and with high sodium content is very rare even in Japan.
The water gives moisture to keratinized skin and makes it shiny and smooth after bathing.
When it is drunk, the water is beneficial in activating digestive and liver functions.
Enjoy the ultimate relaxation in Taishoya's free-flowing hot spring, gentle on your skin and body.

Taishoya Group Privileges for staying guests Exploring the four hot springs

Guests staying at either Taishoya, Shiibasanso, or Yushuku Seiryuu are welcome to use any of "Shiki no Yu" and "Taki no Yu" at Taishoya, "Yama no Yu" and "Shiiba no Yu" at Shiibasanso. (Free courtesy lifts available) If you would like to use this service, please contact our front desk.
Taishoya「Shiki no Yu」
Taishoya「Taki no Yu」
Shiibasanso「Yama no Yu」
Shiibasanso「Shiiba no Yu」

Taishoya's three buildings, each with different tastes

Guest rooms in each of the three buildings (Annex, East Building, Main Building) are designed with different tastes.
Spend a leisurely time in serenity you wouldn't expect in the middle of a hot spring town.


Free Wi-Fi is available in all guest rooms.
Annex guest rooms
East Building guest rooms
Main Building guest rooms

Meals are prepared with the spirit of Japan's unique traditions, culture, and hospitality
With our endeavors to offer relaxing accommodation and meals, we continue to studiously preserve and pass down the traditional customs of Japanese ryokans to this day.
Meals prepared using ingredients from mountain and sea carefully selected each day are individually served on fine pieces of tableware befitting the home town of ceramics such as Arita ware, and are presented to you with the warmest of welcomes.
Please enjoy the Japanese spirit and taste in every bite.
(Dinner for guests staying in the Main Building is served in the Heian no Ma dining hall.)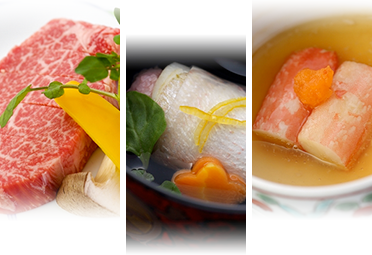 With our ample facilities, guests can enjoy a stay that suits them.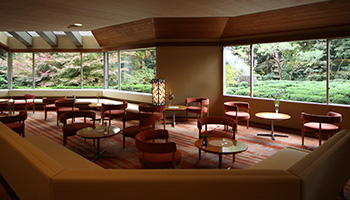 Main Building Guest Rooms

Main Building Guest Rooms

Main Building / East Building Guest Rooms

Night Lounge
Main Building / Annex / East Building Guest Rooms

Shiki no Yu (Ladies' bath)
Lulu Balinese Salon・Bali-an
Restaurant、Large hall
Main Building / Annex / East Building Guest Rooms

Shiki no Yu (Men's bath)
Ceramics Store、Dining Hall、Tea Salon
Annex Guest Rooms

Front Desk、Lobby、Shop、Banquet Hall、Conference Room
Annex Guest Rooms

Taki no Yu (Men's / ladies')